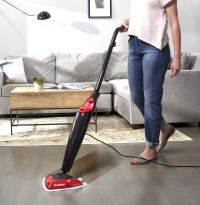 In recent years, the use of steam mops has dramatically increased in popularity. The ability of these mops to clean floors without harmful chemicals has made them a must have cleaning product in many homes. In addition, their versatility and portability make them great for use in areas of your home that are hard to clean and/or reach. However, with so many options to choose from, how do you know which steam mop will best fit your needs?
Well, first of all you need to narrow down your options, which we can help you with. So don't go out and buy the first steam mop you see advertised, are there are a few things you need to take into consideration. You don't want to buy too much or too little. While most steam mops can be used only for cleaning floors, others (through the use of attachments) can be used to clean wall tiles and kitchen/bathroom countertops. Rather than just purchasing a floor steamer with all the bells and whistles, sometimes it's better to look at the ones that will meet your needs without having too many extraneous parts that you may never have a need for.
After exhaustively analyzing, reviewing and comparing a number of different steam mops, we narrowed it down to the three best models, each of which we considered to be the best in their price range.